Understanding the Landscape: the Role of a Digital Marketing Specialist
A digital marketing specialist is a skilled professional responsible for developing, implementing, and managing online marketing campaigns for businesses and brands. Their primary goal is to drive traffic, increase brand awareness, and generate leads or sales through various digital channels.
To gain a comprehensive understanding of the digital marketing landscape, it's essential to start with the basics. Begin by familiarizing yourself with the core concepts of digital marketing, including search engine optimization (SEO), pay-per-click (PPC) advertising, social media marketing, email marketing, content marketing, and analytics.
Citation: (Source: Neil Patel, "What Is Digital Marketing? A Guide to Marketing in Today's Digital World," neilpatel.com)
There are 6 things you need to put into consideration as digital marketer they are:
Defining the Role: The primary objective of a digital marketing specialist is to strategize and execute digital marketing campaigns that align with a company's goals. This may involve boosting website traffic, generating leads, increasing sales, or enhancing brand visibility. Each campaign's success is measured through key performance indicators (KPIs) such as click-through rates (CTR), conversion rates, return on investment (ROI), and engagement metrics.
Target Audience and Market Research: A crucial aspect of the digital marketing specialist's role is understanding the target audience. Through market research and data analysis, they gain insights into consumer behavior, preferences, and demographics. This knowledge helps tailor marketing campaigns to effectively reach and engage the intended audience.
Competitor Analysis: Digital marketing specialists also conduct competitive analyses to identify the strengths and weaknesses of rival businesses. By understanding the strategies that work for competitors, they can fine-tune their own approaches and gain a competitive edge.
Adapting to Trends: The digital marketing landscape is dynamic and ever-changing. Successful specialists stay updated with the latest industry trends, algorithm updates, and consumer preferences. They adapt their strategies accordingly to ensure their marketing efforts remain effective.
Compliance and Ethics: Digital marketing specialists must also be aware of legal and ethical considerations in their campaigns. This includes adhering to data protection laws, avoiding misleading advertising, and ensuring transparency in marketing practices.
Collaboration with Other Departments: Digital marketing is often intertwined with other departments like design, content, and sales. Effective communication and collaboration with these teams are essential to create cohesive and successful marketing campaigns.
By exploring these key aspects of the digital marketing landscape, aspiring specialists can lay a solid foundation for their career journey. Continuously building upon their knowledge and skill set will enable them to thrive in this fast-paced and ever-evolving field.
Essential Skills and Qualifications as a Digital Marketer
To become a proficient digital marketing specialist, it is crucial to develop a strong foundation of skills and acquire relevant qualifications. This section outlines the essential abilities and credentials that will set you apart as a competent and sought-after professional in the field of digital marketing.
Analytical Skills: Digital marketing relies heavily on data analysis to measure the success of campaigns and make data-driven decisions. As a digital marketing specialist, you should be adept at interpreting data from various platforms, such as Google Analytics, social media insights, and email marketing metrics. Analyzing data helps you understand user behavior, identify trends, and optimize marketing strategies for better results.
Copywriting and Content Creation: Effective communication is at the heart of digital marketing. Strong copywriting skills enable you to craft compelling and persuasive content for various purposes, including social media posts, ad copies, email newsletters, blog articles, and website copy. Engaging content plays a pivotal role in attracting and retaining the target audience.
SEO and SEM Knowledge: Search Engine Optimization (SEO) and Search Engine Marketing (SEM) are fundamental to improving a brand's online visibility. Understanding SEO principles allows you to optimize website content, improve search engine rankings, and drive organic traffic. Additionally, knowledge of SEM, including Google Ads and Bing Ads, enables you to create and manage paid advertising campaigns effectively.
Social Media Savviness: Social media platforms have become integral to digital marketing strategies. A digital marketing specialist should be well-versed in social media management, including content scheduling, audience engagement, and social media advertising. Different platforms have their unique dynamics, and knowing how to leverage them effectively is essential.
Email Marketing Expertise: Email marketing remains a powerful tool for reaching and nurturing potential customers. Understanding email marketing best practices, including list segmentation, A/B testing, and automation, allows you to craft personalized and impactful email campaigns.
Basic Design Skills: While not necessarily a professional graphic designer, having basic design skills is advantageous. Familiarity with design tools like Canva or Adobe Spark enables you to create visually appealing graphics for social media, email campaigns, and other marketing materials.
Certifications: Acquiring certifications from reputable sources in digital marketing, such as Google, HubSpot, or Facebook Blueprint, can enhance your credibility and demonstrate your expertise to employers and clients. These certifications validate your knowledge and skills in specific areas of digital marketing.
Adaptability and Curiosity: Digital marketing is an ever-changing landscape with new technologies, platforms, and trends emerging regularly. Being adaptable and curious allows you to stay ahead of the curve, continuously learn, and apply innovative strategies to stay competitive.
Building a strong foundation of these essential skills and qualifications will not only boost your employability but also enable you to deliver effective and results-driven digital marketing campaigns. As you progress in your career, you can specialize in specific areas of digital marketing that align with your interests and strengths. Continuous learning and staying updated with industry developments will be key to your success as a digital marketing specialist.
Where to start your digital marketing Journey? Sponsored opportunities in Digital Marketing
Digital Marketing Courses & Certification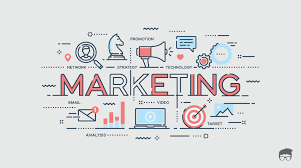 I strongly recommend you start with Google Digital marketing courses.
Starting your digital marketing journey can be overwhelming, but a great place to begin is with the comprehensive and reputable Google Digital Marketing courses available at Skillshop. Google offers a range of courses that cover various aspects of digital marketing, providing you with valuable insights and practical knowledge to kickstart your career in this dynamic field. Below are some essential Google Digital Marketing courses and explanations on what each course entails:
Google Digital marketing certification
1. Google Ads Search Certification Course

Google Ads Search Certification Course
This course focuses on Google Ads' Search advertising platform, which enables businesses to display ads in Google's search engine results. You'll learn how to create effective search campaigns, select relevant keywords, and optimize ads to drive targeted traffic to websites.
2. Google Ads Display Certification Course

Google Ads Display Certification Course
This course explores the Google Ads Display network, where you can showcase visual ads on websites, apps, and other online platforms. You'll gain insights into ad formats, audience targeting, and creative strategies to increase brand visibility.
3. Google Ads Video Certification Course

Google Ads Video Certification Course
Video marketing is a powerful tool, and this course focuses on Google Ads' video advertising options, such as YouTube ads. You'll learn how to create engaging video campaigns and effectively reach your target audience through compelling visuals.
4. Google Ads Measurement Certification Course

Google Ads Measurement Certification Course
This course dives into the measurement and analytics aspect of digital marketing. You'll understand how to track the performance of your Google Ads campaigns, analyze data, and make data-driven decisions to optimize your marketing efforts.
5. Google Analytics Individual Qualification (IQ) Course

Google Analytics Individual Qualification (IQ) Course
Google Analytics is a fundamental tool for understanding website traffic and user behavior. This course equips you with the knowledge to set up Google Analytics, interpret data, and gain insights into your website's performance.
6. Google My Business Basics Course

Google My Business Basics Course
Google My Business is essential for local businesses. In this course, you'll learn how to create and optimize your Google My Business profile, which helps your business appear in local search results.
Completing these Google Digital Marketing courses will provide you with a solid foundation in various areas of digital marketing. Moreover, earning Google certifications demonstrates your expertise and credibility to potential employers and clients. As you progress, consider exploring other online resources, blogs, and industry forums to stay updated with the latest trends and strategies in the ever-evolving world of digital marketing.
Digital Marketing Jobs
Have you ever wondered how a Digital Marketing job ad posting look like? well below is an example of one, this gives an overview of what you need to do.
Digital Marketing Job Description
Job Description: Digital Marketing Specialist
Title: Digital Marketing Specialist
Job Summary:
As a Digital Marketing Specialist, you will be responsible for developing, implementing, and managing online marketing strategies to drive traffic, engagement, and leads for our company's digital channels. You will work closely with the marketing team to create and execute campaigns across various platforms, analyze data, and optimize marketing efforts for maximum impact.
Key Responsibilities:
Develop and Execute Digital Marketing Campaigns: Plan and execute end-to-end digital marketing campaigns, including SEO/SEM, email marketing, social media, display advertising, and content marketing, to achieve business objectives.
Content Creation and Management: Create compelling and engaging content for various digital channels, including website, blog, social media, and email campaigns. Manage content calendars and ensure timely delivery of content.
SEO and SEM Optimization: Implement SEO strategies to improve organic search visibility and website rankings. Manage paid search campaigns (PPC) and monitor keyword performance for continuous optimization.
Social Media Management: Manage and maintain company social media profiles and presence on platforms like Facebook, Twitter, Instagram, LinkedIn, etc. Engage with the audience, respond to comments, and oversee social media advertising campaigns.
Email Marketing: Develop and execute targeted email marketing campaigns to nurture leads and drive customer engagement. Optimize email campaigns for increased open rates and conversions.
Analytics and Reporting: Track and analyze digital marketing performance metrics using tools such as Google Analytics, social media insights, and email marketing platforms. Provide regular reports and insights to improve campaign effectiveness.
Conversion Rate Optimization (CRO): Identify opportunities for website and landing page optimization to improve conversion rates and user experience.
Collaboration and Communication: Coordinate with cross-functional teams, including design, sales, and product, to align marketing strategies with overall business goals. Communicate campaign objectives and progress to stakeholders effectively.
Stay Updated with Industry Trends: Keep abreast of the latest trends and best practices in digital marketing. Implement innovative and creative strategies to stay ahead of the competition.
Qualifications and Skills:
Bachelor's degree in Marketing, Communications, or a related field.
Proven experience in digital marketing, with a strong track record of successful campaigns.
Proficiency in digital marketing tools and platforms, including Google Analytics, Google Ads, Facebook Business Manager, and email marketing software.
Excellent copywriting and content creation skills.
Strong analytical abilities and data-driven mindset.
Understanding of SEO best practices and trends.
Familiarity with social media management and advertising.
Creative thinking and problem-solving skills.
Excellent communication and collaboration skills.
Certifications in digital marketing (Google Ads, Google Analytics, etc.) are a plus.
This Digital Marketing Specialist role offers an exciting opportunity to work in a fast-paced and dynamic environment, where you can leverage your digital marketing expertise to drive business growth and success. Join our team and make a significant impact in the digital landscape.
Digital Marketing Salary
How much on the average is a digital marketer paid?
The salary for a digital marketing professional can vary significantly based on factors such as job title, experience level, location, company size, and industry. Digital marketing encompasses various roles, and each has its salary range. Below are approximate salary ranges for some common digital marketing positions.
1. Digital Marketing Coordinator/Assistant:
Entry-level position
Salary range: $40,000 to $55,000 per year
2. Digital Marketing Specialist:
Mid-level position with a few years of experience
Salary range: $50,000 to $70,000 per year
3. Digital Marketing Manager:
Experienced professional with leadership responsibilities
Salary range: $65,000 to $90,000 per year
4. Digital Marketing Director:
Senior-level role overseeing digital marketing strategy and teams
Salary range: $90,000 to $130,000 per year
5. SEO Specialist/Manager:
Focused on search engine optimization strategies
Salary range: $50,000 to $80,000 per year
6. Social Media Specialist/Manager:
Specializes in managing and optimizing social media campaigns
Salary range: $45,000 to $75,000 per year
7. Content Marketing Specialist/Manager:
Focused on content creation and strategy
Salary range: $50,000 to $80,000 per year
It's important to note that these figures are approximate and can vary based on the factors mentioned earlier. The digital marketing industry continues to evolve, and demand for skilled professionals remains high, making it an attractive field for those seeking rewarding career opportunities.